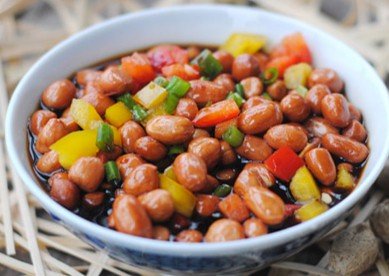 Chinese Vinegar Peanuts is a great choice with China liquors, Easy to make and healthy. This Traditional Chinese Food is popular in North Part of China. (Eight Culinary traditions of Chinese Cuisine), Chinese Consider Vinegar as a medicine for Softening Blood vessel, But i prefer another Peanuts recipe, that is Salty Shelled Peanuts, Which is much better with China Liquor or Wine.
Raw Peanuts
Red and Yellow Pepper
Green onion
Oil (Olive Oil)
Soy Sauce
Chinese Vinegar
Sugar
Salt
Wash the peanuts and let it dry
stir constantly with a spatula to ensure uniform heating of peanuts
Remove peanuts when there is a slight color change in the skin. You can also base your judgment on the sound. If there is a "bla, bla" sound, it's time to remove it.
Remove the fried peanuts. It will not become crispy until it cools down.
Mix soy sauce, vinegar, sugar, and a little salt.
Add some small dices of red and yellow bell peppers, and the sauce prepared above. Mix well and be ready to serve.
Recommend: